Do you know Budapest Park? It's not just a venue for concerts.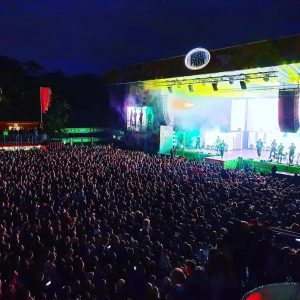 Leave reality behind. The motto of Budapest Park fits perfectly to the amazing atmosphere the place radiates, transporting you to the unknown, to a place beyond the conventional rules of the world.
One of the largest open-air entertainment center of Europe, Budapest Park is without a doubt a go-to place when we talk about springtime parties. Their regular concerts several times a week by local talents and world-famous superstars guarantees you won't leave Budapest Park without amazing memories. The real, wild parties however are held from Thursday till Saturday every week after 10PM. On up to 3 dancefloors you can let loose to different styles of music with a massive crowd of party lovers right under the stars.
Jump on a tram from the center, join the greatest open-air party of Budapest and leave reality behind!
Sum 41 are back in Europe
Budapest Park'll be the first european show of Sum 41's tour. This the second time that they'll be perfome at Budapest Park.
SUM 41 have announced their seventh full-length album, Order In Decline, will be released July 19, 2019 via Hopeless Records. Looking back at the band's storied 23+ year career, this record is undoubtedly Sum 41's heaviest and most aggressive album to date, while also being their most dynamic and raw.
Order In Decline: Track Listing
1. Turning Away
2. Out For Blood
3. The New Sensation
4. A Death In The Family
5. Heads Will Roll
6. 45 (A Matter Of Time)
7. Never There
8. Eat You Alive
9. The People Vs…
10. Catching Fire
Order In Decline is available for pre-order now at
http://smarturl.it/OrderInDecline
. Fans who pre-order digitally will receive an auto-grat download of "Out For Blood."
https://www.budapestpark.hu/en