The name of Kevin Lyman is well knowed by all the passionate about punk and pop-punk music. He's the founder of the Vans Warped Tour: the Festival that crossed all the Country cost to cost for 24 years, hosting tens of thousands of bands becoming a real cult for American teenagers and not only for them. We had the pleasure to be at Warped Tour 25th Anniversary, and it was incredible! Now it's time to show you our interview with the man who made the dreams of a lot d people from all over the world possible!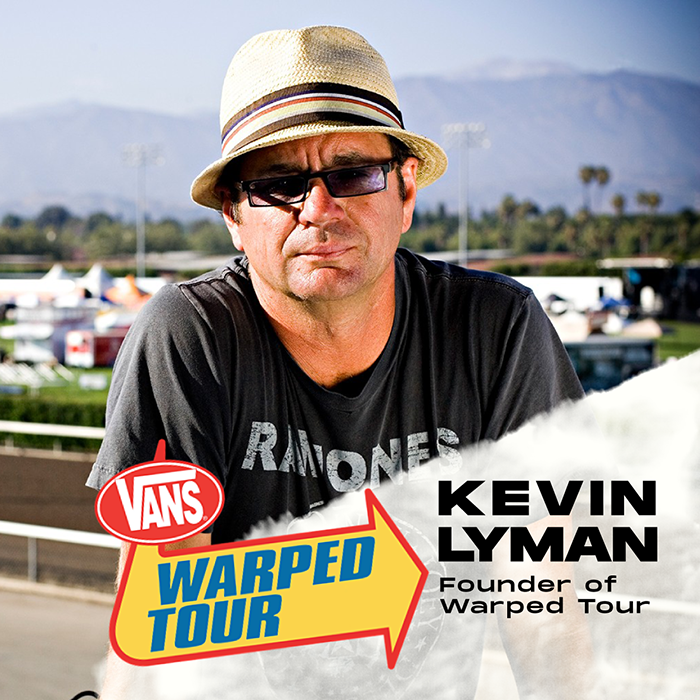 Kevin Lyman Interview
Welcome to Brainstorming Magazine, it's an honour for us! Let's start with a classic question: what are the basic rules to build a Festival like the Warped Tour?
I think I've learned early that you have to made sure that you booked the core of the bands first. I would make a list of the 20 bands that I thought the fans would want to see most.
Once I booked 10 of them, I could start to broaden out and book a diverse line up, and after the negotiations with the first 10 bands it would pretty much dictate how much of the budget would be left for the rest.
You founded the Warped Tour over 25 years ago. A lot of things are changed: music industry, the rules to organize big events, the bands and of course the generations! How did you adapt to the changes without distorting your starting concept?
I've always tried to pay homage to the past but looking towards the future. Being in contact with the fans, for better or worse, was very important. You had to realize not everyone is going to be happy by your decisions, but you have to live by them.
The Warped Tour has grown over the years. What's your secret to growing it? There was a moment when you felt like you didn't have any new ideas anymore?
Towards the end I felt I had done everything I possibly could with the project. 25 years was a long time and I was starting to become burnt out on the whole process. I enjoyed it for 24 of the 25 years.
Music & Marketing. Your festivals are the best in integrating brands into the music experience. We can say that you were doing marketing before the world knew it, as you started doing it from the beginning! How did it go? Were you contacted by the sponsor the first time?
I realized that brands wanted an authentic connection to music. By using much of the funds they commuted to keeping the price affordable and including the bands who wanted to be in their campaigns, that could be a winning combination. The bands would be compensated, so I guess looking back this was an early form of "influencer marketing."
Without the brands support there would have been no tour.
At the beginning I had some friends who worked with some companies who were willing to help support the idea of warped and took a chance with me.
Warped Tour is like a sort of monument in the American kids' summer. How do you feel knowing a lot of people has grown waiting for the summer to go at the Warped seeing their favorite bands with all their friends? It's something that stays in people's mind forever, this has also inspired a lot of songs…
I've had a great time doing the "My Warped Life" podcast and hearing people's stories of how going to the tour has inspired them to go out and either get involved in the business or do work with a charity in their area or support one they met on warped.
During my summer travels, I've met a number of people who, once we start talking, had a story about attending one of my festivals and how in some small way effected thir lives. I've met a couple who said they met at a show and then they introduced me to their two children.
Teaching & Kevin Lyman Group
You are a Professor at the Thornton School of Music of the University of South California. How do you feel in this role? What are you trying to teach to your students?
I guess I was always a teacher in some ways. Teaching bands how to tour, brands how to connect in a genuine way, giving people a chance to work on their first tour and many times giving young reporters their chance to do interviews at their first festival.
Getting up focus on a group of 100 students a year and trying to show you can do good and do good business is quite rewarding. I am inspired by many of my students and think we have hope for the future. I truly think it is time to get out of their way and let them run things.
I see our country being run by ignorance and fear, which allows a few old white males to manipulate the masses. This is a whole other topic and maybe saved for another interview, but the music industry has been a microcosm of society and is starting to change.
In your Team in the Kevin Lyman Group you work with many women. Do you think the music industry is opening up more to giving women important roles?
I've always believed in finding the best people to work with and I've found most of the best to be women. When I visit other tours or festivals and see women who started their careers with me, it does make me feel I have left a lasting mark in a business I loved.
I was never a member of the "good old boys club" in the music business and it was fine with me. I truly think that the remaining walls are coming down and it's about time.
Fun Facts
Which are the funniest bands you worked with over these years?
There was never a more fun band to be around than a "young Blink182″, but I had the most fun with Red Hot Chili Peppers.
And an artist you wanted to bring at the Warped but you never did?
I tried to get Avril Lavigne for a couple of years. I also wanted Twenty One Pilots, and actually had them until their agent talked them out of it. So just a few.
Is there anything you still want to accomplish in your life?
I seem to be busier than ever these days. Between teaching, the podcast, gardening and realizing who your true friends are – not the ones who were only around when you were making them money – my time is filled up.
In addition, I am producing quite a few events for others. They range from a recovery event in Las Vegas, to a "Tribute to the scientists" who developed the vaccine in California. And then a climate awareness project in the Azore Islands next summer.
I always tell my students the only thing you eventually run out of if you have lived a full live, is time, so use it to the fullest!
The last one: what's the best thing music has teached to you over the years?
Though you may not like a particular type or of music, if it's touching someone's heart as much as punk rock spoke to myself, it's not your place to judge or criticize it!
Thank you for the interview!