Rock for People festival is finally around the corner! The long-awaited biggest edition will welcome from 15 to 18 June 2022 bands like Green Day, Biffy Clyro, Fall Out Boy and also a lot of new music from the scene.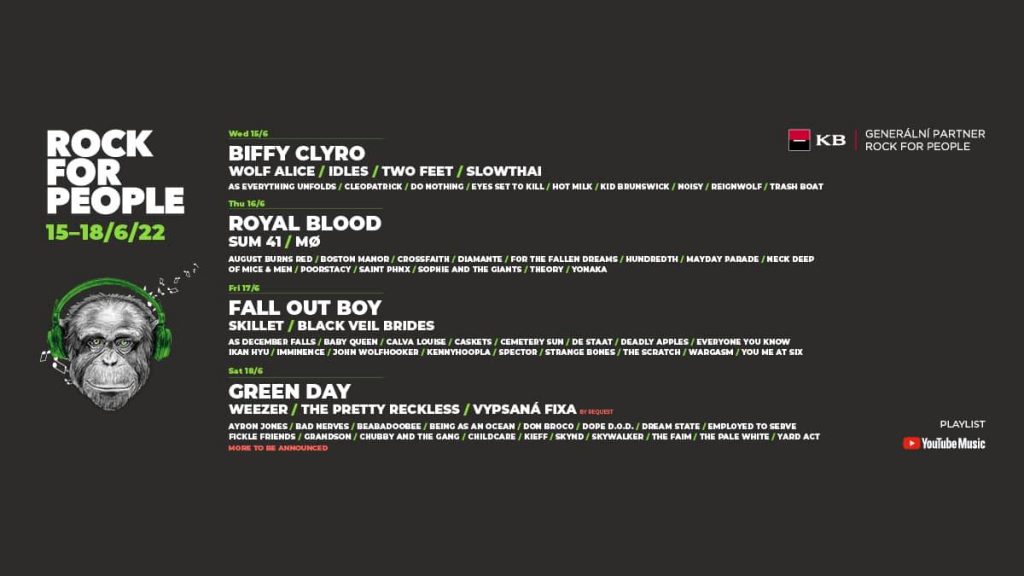 Everyone will find something to enjoy at Rock for People. From the fans of the moshpit, to the fans of main rockstars like Sum 41, Skillet, Weezer, The Pretty Reckless, You Me At Six, Black Veil Brides, and Don Broco.
For the special annyversary of the festival in addition to the music program, there will be a lot of activities: art, lectures, workshops, theatre, film screenings, sports activities, and more.
Rock for People is one of the most significant European festivals. Fans can look forward to 9 stages with more than 100 music performances and an accompanying art program. The festival will take place in the multifunctional complex Park 360 which is in a unique industrial airport.
Rock For People goes green
In addition, the festival is trying to have a more green impact. The organizers are trying to reduce the carbon footprint by using solar and other renewable sources and by recycling 14 types of materials. Last year, a hydrogen-powered stage made its debut at Rock for People Hope festival. The campus aims to be climate neutral and energy self-sufficient by 2030.
During December 2021, the festival's music lineup grew by the traditional 24 names. However, the overall lineup is still not complete! Over the next few months, the festival will announce dozens of new names from the international and local music scene. Stay tuned 'cause we can expect other surprises!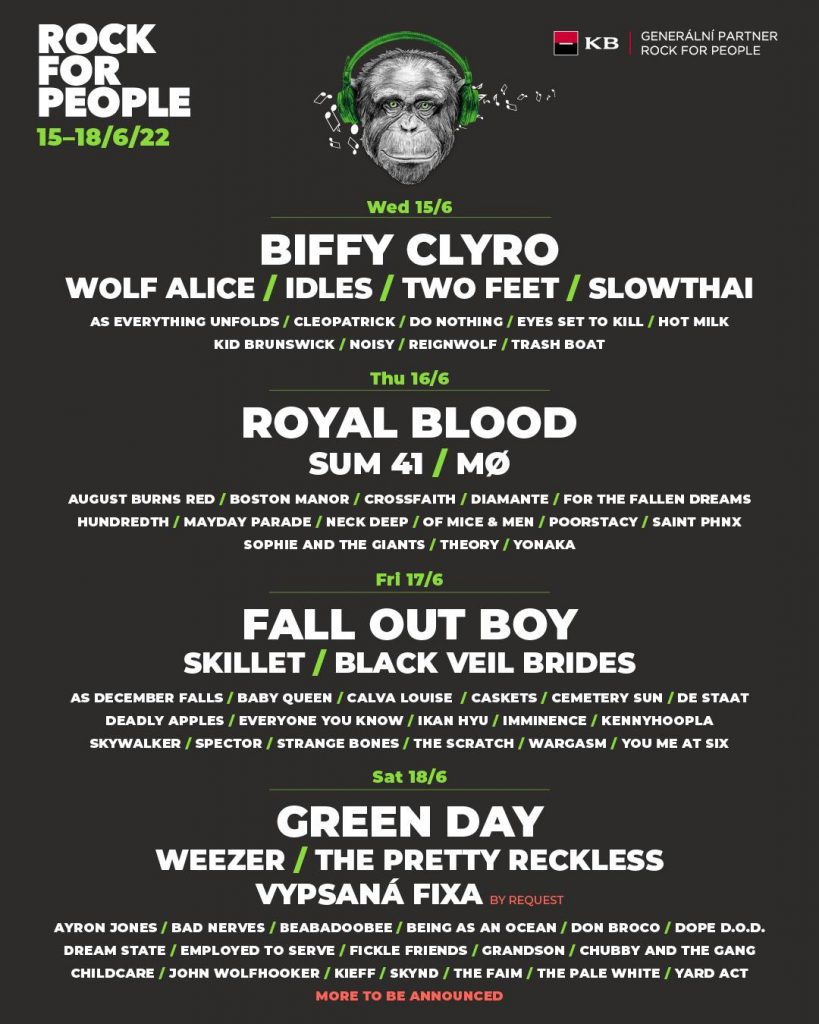 Daily Line Up
Wednesday, June 15: Biffy Clyro, Wolf Alice, IDLES, Two Feet, slowthai, As Everything Unfolds, cleopatrick, Do Nothing, Eyes Set To Kill, Hot Milk, Kid Brunswick, Noisy, Reignwolf, Trash Boat.
Thursday, June 16: Royal Blood, Sum 41, MØ, August Burns Red, Boston Manor, Crossfaith, Diamante, For the Fallen Dreams, Hundredth, Mayday Parade, Neck Deep, Of Mice & Men, POORSTACY, SAINT PHNX, Sophie and the Giants, Theory, YONAKA
Friday, June 17: Fall Out Boy, Skillet, Black Veil Brides, As December Falls, Baby Queen, Calva Louise, Caskets, Cemetery Sun, De Staat, Deadly Apples, Everyone You Know, Ikan Hyu, Imminence, John Wolfhooker, KennyHoopla, Spector, Strange Bones, The Scratch, WARGASM, You Me At Six
Saturday, June 18: Green Day, Weezer, The Pretty Reckless, Vypsaná Fixa – playlist na přání, Ayron Jones, Bad Nerves, beabadoobee, Being As An Ocean, Don Broco, Dope D.O.D., Dream State, Employed to Serve, Fickle Friends, grandson, Chubby And the Gang, Childcare, Kieff, Skynd, Skywalker, The Faim, The Pale White, Yard Act
Daily lineups are already known, so you can purchase your one-day tickets. The festival's capacity is limited, and organizers are reporting a 90% sell-out. Four-day tickets are on sale at GoOut.net