Muse and Slipknot, Rock for People 2023 aims higher, pulling aces in the form of two headliners for the 27th edition. Following this year's legendary sold-out Rock for People headlined by Green Day, the organizers are raising the bar once again.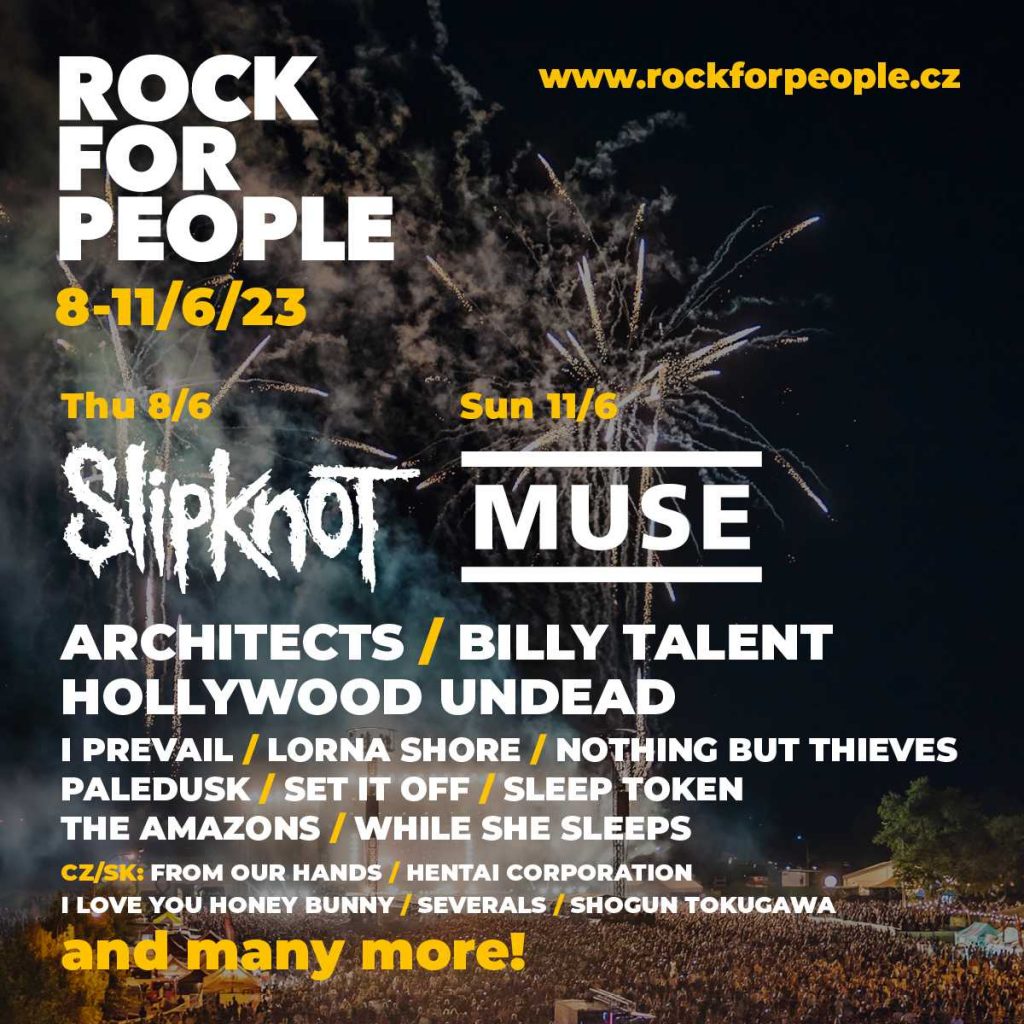 Rock for People 2023 – Muse and Slipknot
As the first festival, they're announcing two headliners for next summer and adding a fourth day. Fans can look forward to British giants MUSE as part of the tour for their ninth studio album Will of the People. American Slipknot, who performed at the O2 Arena this year and proved that they are rightfully among the biggest metal legends in music history, will once again delight the lovers of metal music in June at Park 360 in Hradec Králové.
Rock for People 2023 festival will take place on June 8-11 at Park 360 in Hradec Králové in the Czech Republic. The pre-sale of tickets for the next edition starts Friday at 10 a.m. on Goout.net
SLIPKNOT
There was never a band like SLIPKNOT, and there will never be another. Like a spore out of the Midwest, they've quietly bloomed into the most uncompromising, undeniable, and unique presence on the planet whose influence transcends genres and generations. Since sowing the seeds for revolution in Iowa during 1999, these musical outliers have captured a GRAMMY Award alongside 10 nominations, scored 12 Platinum / 41 Gold album certifications around the world, and logged over 8.5 billion global streams and 3.5 billion video views to date – unprecedented for a rock act in this generation or any other. Rolling Stone cited the seminal platinum-selling 2001 album Iowa among "The 100 Greatest Metal Albums of All Time," while The Ringer attested, "They're the most important heavy band of their era." In addition to marking the group's third consecutive #1 debut on the Billboard Top 200, their sixth full-length album, WE ARE NOT YOUR KIND, bowed at #1 in twelve countries worldwide in 2019.
MUSE
A breathtaking futuristic show, hypnotic effects, unforgettable vocals, and lyrics that go deep under the skin. This and much more are MUSE, one of the biggest and most successful rock bands in the music world. The band's new show, the follow-up to their recently released album "Will of the People", ranks among the best live musical performances to be seen and experienced on the current music scene. The trio consisting of Matt Bellamy, Dominic Howard, and Chris Wolstenholme returns to the Czech Republic for the umpteenth time. Apart from their premiere show at Rock for People in 2010, they have already played several sold-out concerts at the biggest Czech concert arena and their last open-air concert in Prague's Letňany in 2019. Muse have won numerous music awards including two Grammy Awards, an American Music Award, five MTV Europe Music Awards, two Brit Awards, eleven NME Awards, and seven Q Awards, amongst others.
LINEUP ROCK FOR PEOPLE 2023
Headliners: Thursday, 8 June SLIPKNOT, Sunday, 11 June MUSE
Subheadliners: Architects, Billy Talent, Hollywood Undead
Bands: I Prevail, Lorna Shore, Nothing But Thieves, Paledusk, Set It Of,
Sleep Token, The Amazons, While She Sleeps
CZ/SK: From Our Hands, Hentai Corporation, I Love You Honey Bunny,
Severals, Shogun Tokugawa
Supported by the Ministry of Regional Development of the Czech Republic, Calendarium Regina, Hradec Králové, Hradec Králové Region
General media partner: Česká televize
Main media partner: Evropa 2
Partners: Komerční banka, Google, Forum
Rock for People festival will take place on June 8-11, 2023 at Park 360 in Hradec Králové in the Czech Republic. The pre-sale of tickets for the next edition starts Friday at 10 a.m. on Goout.net.